Destination Ares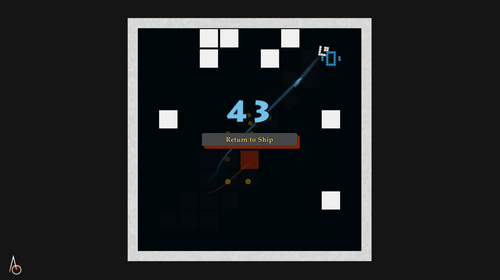 I packed in all kinds of goodies this month. Version 0.6.2 is a huge Quality of Life update, and I think you'll love it.

I was sure to put some oft requested features in this build:
Highlighting resources on the HUD shows which systems consume or produce that resource. Great for learning what does what and how to get that random resource.
Controls for seeing underneath crew are available (hotkeys + HUD). You can toggle whether you want systems or crew on top, basically. Great for getting at that system under the corpses ;)
Game speed controls (pause/ play/ fastfoward) are now available on the HUD.
- - - -
Patch Notes

Additions
Added strained animation when system is both strained and in overdrive
Added added injection effect to system tooltips when relevant
Added a Standard event: "Puketastic"
Added successful events as a reduction on event kindness
Added living crew as a reduction on event kindness
Now recolors system borders when you highlight resources. This should make it faster and easier to see what systems are involved with what resources
Added CRT effects to main menu and ship building
Added short animation to end of minigame
Added game speed controls to the HUD
Added controls for flipping between Crew or Systems on top One step closer to release.
Changes
Increased animation speed for engines and waste cannons while the injector's effect is active
Changed a bunch of events that required engines to also allow waste cannons
Changed Gyms into [Passive] systems, seeing as there's no reason to turn them off (for all the cruel AIs out there: you can still use ignore alerts if you want your crew to neither use nor repair gyms)
Changed Toilets into [Passive] systems, for the same reason as Gyms
Increased effect of lost progress on event kindness
Increased effect of broken systems on event kindness
Changed Use alerts so they can turn on systems (fewer clicks ftw)
Overdrive now automatically turns off when system turns off
Rephrased a sentence in the Tutorial (This will probably be moot after I replace the tutorial)
Changed menu button colors (because I felt like it)
Reduced volume of Generator audio
Flipped direction of time loss penalty animation in minigame
Fixes
Fixed overdriven systems being enabled and repaired on load
Fixed negative momentum ending the game
Fixed minor typo in opening story
Fixed a Story event that was mislabelled as "Unknown"
Fixed event kindness so it increases as you have fewer resources compared to storage capacity
Fixed VFX from upgrading to Unity 5.6.1p1
Fixed Overdrive commands so they always turn on systems, if not already on
Fixed mouse pings on main menu
Fixed an outline-related crash
Fixed a crash from invalid crew heal attempts (and a few other potential causes)
Fixed bug that gave out free Fireball achievement on some failed runs (oops)
Fixed bug that delayed some system audios
Fixed rare bug that prevented the minigame from ending
- - - -

One step closer to release.

I never did finish those tools I was working on at the end of last month. Soooooon

I'm setting an ambitious schedule for myself (see my blog post). Let me know what to prioritize on my list.

Up next:
I plan to improve the controls and revamp the tutorial. Then on to more content! (And, of course, lots of little polish here and there)

Enjoy

-Pat
Files
destination-ares-windows-x64.zip
162 MB
Version 0.6.2
Jul 01, 2017